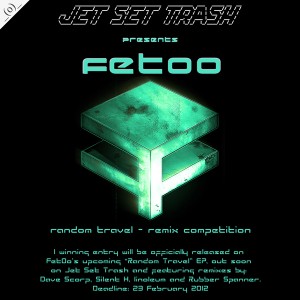 As announced yesterday on the Jet Set Trash Facebook Page and earlier today on his blog, the results for the final 5 (1 winner + 4 runners up) remixes from the "Random Travel" Remix  Competition that FetOo and Jet Set Trash ran in collaboration with Metalectro would be announced very soon and the wait is finally over! Please note that the selection process was based upon a set of different criteria combinng creativity and production values and not just on the produciton or the idea/creativity.
The 1 winning remix will be released on FetOo's "Random Travel" EP, featuring 4 great original tracks and remixes by Silent H, Dave Scorp, 1ino1eum and Rubber Spanner, which will be out on Jet Set Trash this April. More on the release when we do have more details. Additionaly, the winner will aslo be considered for an EP/album release on Jet Set Trash during 2012.
The 4 runners up will be all put together and be given as a free download, on both Metalectro and Jet Set Trash, alongside the Dave Scorp alternative remix of FetOo's track "Where", one of the 4 originals on the EP. So enough talking, it's time for the 1 +4 selected remixes, who are:
HijackDaBass – Winner
Once again, thank you all for your participation in this competition!!!