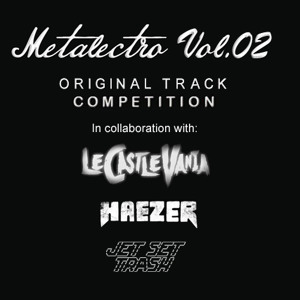 Over the last month Metalectro in collaboration with Haezer, Le Castle Vania and Jet Set Trash have been running an original track competition for the Metalectro Vol.02 Compilation. All digital hell has broken loose with about 50 track submissions, making use of the guitar loops provided in every possible way you can think of! It already sounds like the Metalectro Vol.02 compilation is going to unleash some original neck-breaking and ground-shaking tracks upon the world!
As we are entering the second phase of the competition, each judge will pick his Top 15 tracks and the lists will be posted here in about a couple of weeks from today. Once the lists have been posted, a voting process will take place for a week and the 10 most popular tracks (most votes) will be released on the Metalectro Vol.02 compilation.
Besides getting their tracks released on Metalectro Vol.02 though, there are a few more prizes to be given away to the winners as they will also be considered for a release on Jet Set Trash in 2012, will be interviewed and featured on Metalectro, receive an original CD of Metalectro Vol.01 "Electrohead's Nightmare", plus an extra special gift (tba).
Thank you all for the track submissions, we'll be checking out all tracks again and again in the next couple of weeks as there is a great deal of creativity and a few different ideas from disorted guitar fueled disco to killer thrash to pick from! So, stay tuned for the results and of course feel free to check out the submissions and let the judges know what you think!
PS. The number of tracks to be included in the release may change according to the number of entries