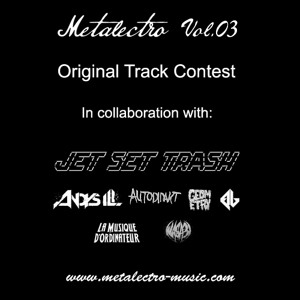 As promised, here we come with some big birthday news and well, the launch of the "Metalectro Vol.03 Original Track Contest"!!! The time has come once again for Metalectro to raise hell, as the final 10 winning tracks of the contest will be featured on the Metalectro Vol.03 Compilation, to be released on Jet Set Trash! This time we teamed up with 6 artists who provided us with some killer "sample packs", out of which you will be asked to produce an original track. The final track will be released as collaboration between you and the artist(s) whose sounds you have used. In case you are wondering who are the artists we teamed up with, have a read below:
Andy's iLL, aUtOdiDakT, Geometry, La Musique D'Ordinateur, Q.G. and WASA3I!!!
Besides providing their "sample packs", the above artists will also be part of the judging panel as "special guest judges". As for the rest of the judging panel, your usual suspects will be filling the gaps with Metalectro's most destructive blogging duo Zak Electrohead Kilmister and Hannakiri Hellectro, as well as Jet Set Trash of course, who will be responsible for the release of the Metalectro Vol.03 Compilation. So, before you grab those "sample packs" and get started, check out the Contest Soundcloud Group (where you can also find the link to download the "sample packs" provided) and make sure you read the Contest Rules and Terms & Conditions and follow them!!!
That's all from us, get creative and get LOUD!!!
Best of luck, you may now begin!!!